Misc. CFS2 Items

In CFS2, an "open-architecture" game, many fun additions can be made to the game which often will make the game twice as fun if not many times as fun as it used to be. For most of us it is a fact; without add-ons, the game of CFS2 would wither and die before seeing it's first birthday.
Fortunately, there are those who continue making these fun additions. Several of them can be found here.
Featured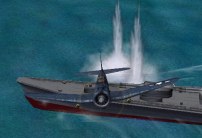 Nanni's splash and other add-on effects which can be found on his
website
.
Recommended!