CFS2 Panels

Please be patient with us as we continue to gather panels from willing freeware authors which to offer here for download. Thank you!
Enter our New Panel Collection

Coming (hopefully) Soon!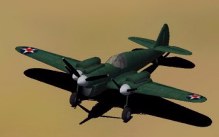 Panel for the nearly-completed P-401 tri-engined fighter by Trekker. Yours truly, the humble webmaster of this site, is undertaking this project.