CFS2 Aircraft

Here you will find dozens of excellent add-on aircraft for CFS2. The main focus of this website is to provide the CFS2 pilot with quality add-on aircraft, but we also provide missions, repaints, etc.

Enter our CFS2 Aircraft Add-on Collection


What's featured here in the Aircraft Section?

Many excellent designers, whom I have found most assisting, friendly, and helpful have given me permission, either through E-mail requests or their notes inside their Readme files, to put their aircraft on my humble website. Most highly featured is the
Heinkel He-177
,
Feiseler
Storch
,
G4M2 "Betty"
with "Baka" missile (below), and
"Mistel"
Fw190 and Ju88 combination.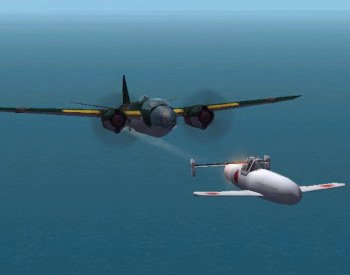 Note: I make no claim to being a computer graphic artist. Everything I make is, well, lousy yet suiting to the purpose, and this CFS2 Excellence Medal is no different. It has no shiny pictures and its merely a US Civil War military ribbon with "CFS2" pasted into the centre of it, but it will serve its purpose.
I also make no claim to be a "grader" or "connoisseur" of any add-ons, but for truly enjoyable and/or excellent add-ons, I will rarely award this CFS2 Excellence Medal indicating it to be of the greatest quality and performance. Wherever you see this Medal on this website, that means the chosen add-on has been found "excellent" in my and at least one other independant observers' eyes.

Above: The CFS2 Add-on Excellence Medal